The Investor must have a fully verified Exness account before joining any fund; follow the link for instructions on how to verify your account for Exness Investor.
How to join
As an Investor, you will need to be invited to join a fund either with a fund code or fund link; these give an Investor the ability to join a fund. The fund link is a URL that, when used, directs an Investor to view the fund while a fund code is used to input into the Exness Investor app to open up the fund.
Without a fund code or fund link, an Investor can neither view the fund nor request the Portfolio Manager (PM) to add them to the fund. An Investor cannot join a fund that has experienced a stop out (fund equity reaches 0).
Fund Code

The fund code is an eight-symbol length code directing to the fund.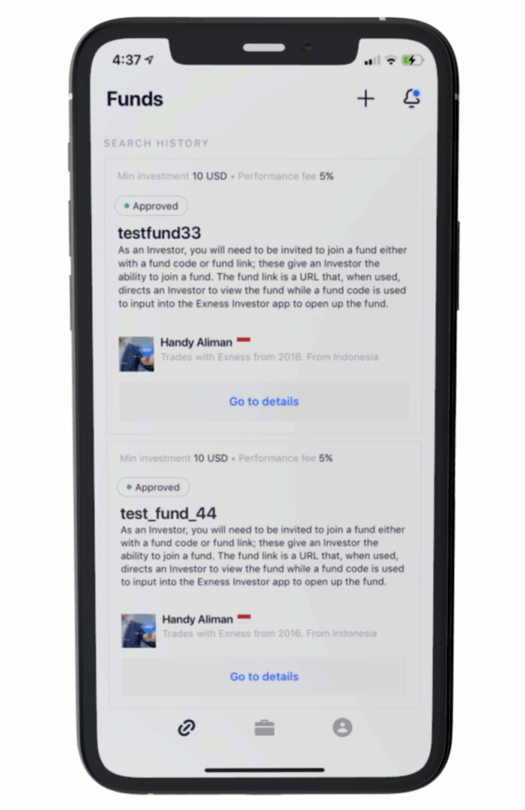 To use a fund code, an Investor must open the Exness Investor app and input the fund code (take care of exact casing and format) to be taken to the fund.
Fund Link

The fund link is a hyperlink that redirects to the fund. If Exness Investor is not installed, it directs to the app store to download the application (where available).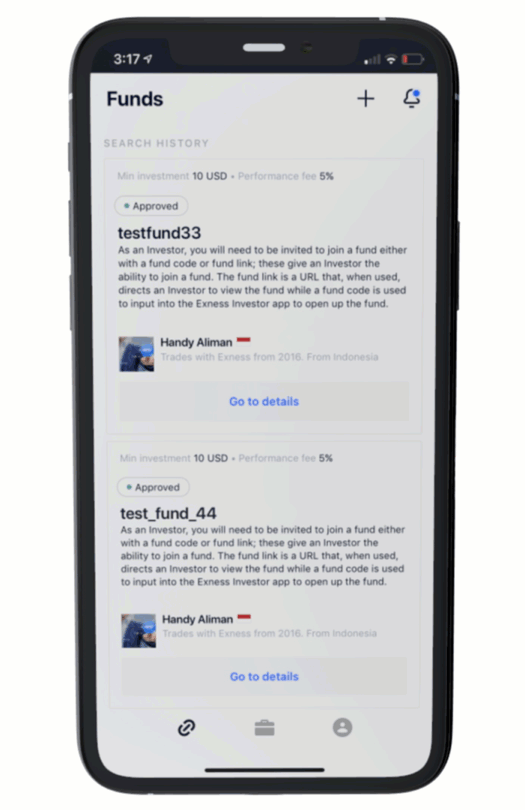 Browsing the fund:
When a fund code or fund link is used to open a fund, the Investor can view the fund's details as well as the PM's information. The Investor can also send the PM a request to join this fund.
Fund access confirmation
Upon receiving a request to join the fund, a PM can choose to confirm the request which will allow the Investor to start investing in the fund, or decline the request, which will leave the fund visible but the Investor will not be able to invest in this fund.
Once an Investor has access to the fund, they may want to know more about how to begin investing in a fund.
Portfolio Managers are assigned a trading reliability level (TRL) based on their trading activity, and in some cases funds may be unavailable to investments for non-qualifying TRL scores.